List of Different Types of Umbrellas
Classic Umbrella - This is the most common type of modern foldable umbrellas, made in overwhelming numbers during the last few decades. They are made from wooden, metal or polyester shaft and canopy made from microfiber fabrics.
Automatic Umbrellas - Their automated design allows them to be opened and closed using one hand. Their small size makes them perfect for carrying in backpacks, purses or briefcases.
Pocket Umbrellas - Made to be small, portable and lightweight, they are perfectly sized to be carried in jacket pockets and used in emergency situation when you found yourself suddenly in the rain. However, their small package carries the penalty of poorer construction and durability. Strong wind and prolonged stay in the rain can get you wet.
Bubble Umbrellas - This kind of umbrella can easily be recognized by their spherical shape (their canopy is much taller than regular umbrellas). This is also one of the most popular umbrella types that use transparent plastic material for their canopy, or rarer (comical) binocular viewing ports for better visibility.
High Wind (storm) Umbrellas - Bad weather, heavy rains and storm winds often prevent use of regular umbrellas, but this special reinforced type can be used in environment with winds up to 55 miles per hour.
Artistic Umbrellas - Modern day fashion designers often tackle the problem of creating high value umbrellas, often made from rare materials or intricate designs choices. Such umbrellas can rarely be seen on the street.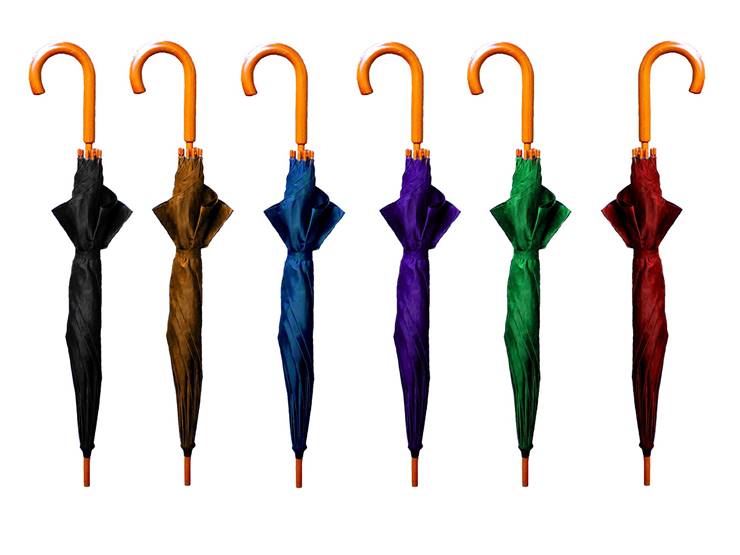 Paper Umbrellas - Ancient Chinese paper umbrellas first appeared over 2000 years ago, and since then they managed to infuse themselves into the cultures of many Asian countries which regard them not only as a useful tool but as a religious symbol.
Gadget/Funny Umbrellas - Some of the most popular umbrellas are the ones who have a little comedy in them. The most popular deign include handle that house cup holders, handle shaped into samurai sword (folded umbrella then looks strikingly similar to sheeted katana), various seals on the top of umbrella for leaving water marks with fun designs, umbrellas that folds into carrying purses, umbrellas that are intended to be strapped to your back, illuminated umbrellas and many more.
Personal Parasol Umbrellas - As a remnant of a past when sun shading and non-water resistant umbrellas were viewed as a fashion accessory, means of showcasing your status and tool to maintain fashionable tan, parasols can more and more be spotted on the streets of modern cities. One reason for their resurgence can be found in ever rising levels of UV radiation, which can cause numerous skin health problems. They are most commonly used in Asia.
Stationary Parasols - Often found in the public areas (such as markets, patios, and beach), these large and heavy parasols are intended to protect multiple users from the heat and sunlight. New designs often include coating that reflects and absorbs potential harmful UV radiation. In addition to stationary parasols, you can also find smaller versions (6 to 9 feet wide) that are foldable and can be transported in a car (perfect for beach use).
Golf Umbrella - Golf users often carry specially made umbrellas that have canopy diameter of 70 inches across. This size makes golf umbrella perfect for carrying in standard golf bags and can protect multiple golfers from sudden rain.